TV |
CINE MAMBEMBE - CINEMA DISCOVERS THE BRAZIL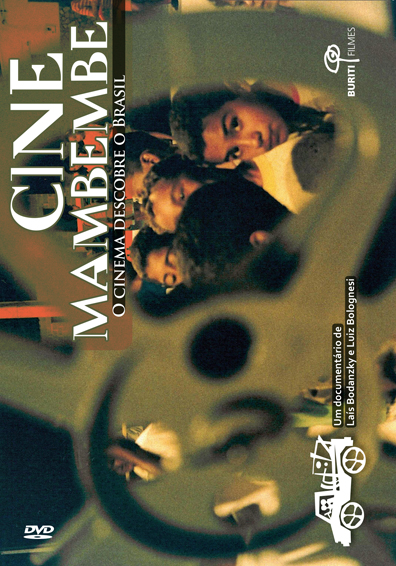 Cast and Crew
Director: Laís Bodanzky and Luiz Bolognesi
Screenplay: Luiz Bolognesi
Editing: Laís Bodanzky
Production: Laís Bodanzky and Luiz Bolognesi
Camera/Audio: Laís Bodanzky and Luiz Bolognesi
Graphic Design: Aída Cassiano
Final Mixing: Doca Corbett
Produced by: Buriti Filmes
Distributed by: Buriti Filmes
Duration: 52 minutes
Year – 1999
Gallery
Book
Synopsis
After 10 years on the road accumulating history with cinema social projects all around Brazil, the movie makers Laís Bodanzky and Luiz Bolognesi release the book "Cine Tela Brasil and Oficinas Tela Brasil: 10 years bringing cinema to public schools and less benefited communities".

The book aims to inspire public educators and politics and portrays the projects, which add impressive numbers. 116.509 km were ridden in highways, taking Brazilian cinema to 759 suburb neighborhoods, where 7439 cinema sessions for 1.355.403 Brazilians took place. Eighteen states and the Federal District were visited by Cine Tela Brasil (Cine Screen Brazil), putting Brazilian of all ages in a movie theater for their very first time.

With four thousand copies, the book will be freely distributed to public schools and education institutions all over Brazil, aside from having one part being sold at MIS bookstore.

Publisher: Buriti Institute
Year – 2014
Synopsis
Laís Bodanzky and Luiz Bolognesi's trip around the small cities of Brazil, exhibiting short films in public squares.
From the south of Bahia to the farthest parts of Amazon, this documentary discovers a country that watches a movie and sees itself on the screen for the very first time, in the turning of the 21st century.
What's seen and heard is truly surprising.
International Awards
New York International Festival of Latin-American Cinema – USA (2000)
· Award of best International Vanguard film.
Montevideu Festival – Uruguay (2000)
· Special Mention from the Press.
Havana Festival – Cuba (1999)
· 2nd Best Latin American Documentary feature
Havana Festival – Cuba (1999)
· Special Memory Award – Cultural Center Pablo de la Torriente Brau
National Awards
Great Award of Cinema Brazil (2000)
· Best Documentary feature
27th Gramado Festival (1999)
· Special Award from the Press
International Festival of Documentaries "It's All True" (1999)
· TV Cultura Award for Best Documentary Feature
CNBB – Brasília (1999)
· Prêmio Margarida de Prata
Cinema Journey of Bahia (1999)
· OCIC Award for Best Picture

State Secretary of Culture of São Paulo (1998)
·LINC Award of Final Mixing.