TV |
STOP LOOK LISTEN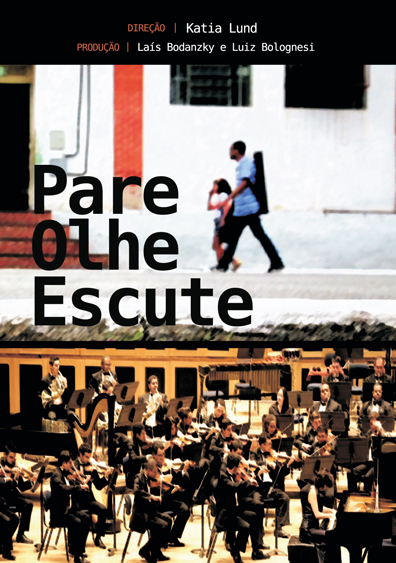 Cast and Crew
Direction and Screenplay: Kátia Lund
Producers: Laís Bodanzky and Luiz Bolognesi
Cinematography: Miguel Vassy and Gabriel Teixeira
Additional Directors: Miguel Vassy and Gabriel Teixeira
Editing: Eduardo Gripa
Audio Technicians: Valéria Ferro and Toninho Muricy
Executive Producer: André Canto
Production Director: André Celotti
Executive Production Assistant: Emmanuel Vidoto
Cameras: Marconni Andrade and Pepe Mendes
Camera Assistant: Renato Marangoni
Logger: Paulo Michel
Sound Technician: Rene Brasil
Additional Sound Technician: J. Arimathéa
Coordinator and Online Editor: Luiz Paulo Iazzetti
Colorist: Rodrigo Peres
Sound and Mix Editor: Edson Secco
Interviewees: Vantoil de Souza, Simone Leitão, Apo Hsu, Guilherme Bernstein, Newton Rolla, Fernanda Martins Oliveira, Jade Honório, Jeneffer Honório, Iago Pereira, Yuri Alexander Pereira, Miréia Ribeiro Pereira, Felipe Prazeres, Kerollen Ferreira P. Bittencourt

Musicians: Symphonic Orchestra of Barra Mansa
Produced by: Buriti Filmes
Distributed by: Buriti Filmes
Duration: 52 minutes
Year – 2013
Gallery
Synopsis
Music has invaded the streets, the alleys and has entered through the windows of the houses bringing color and melody to a once pale routine, in the small town of Barra Mansa, in the state of Rio de Janeiro.
Since the beginning of the project Music at Schools, promoted by the City Hall, Barra Mansa has never been the same.
Directed by Kátia Lund and produced by Laís Bodanzky and Luiz Bolognesi, the movie Stop Look Listen shows, with sensitivity, the routine of young musicians living the dream of going on a tour with the city orchestra, along with the pianist Simone Leitão, over the main music rooms in the country.
History
In April of 2014, the documentary premiered on Channel Arte 1.