Films |
The Ballroom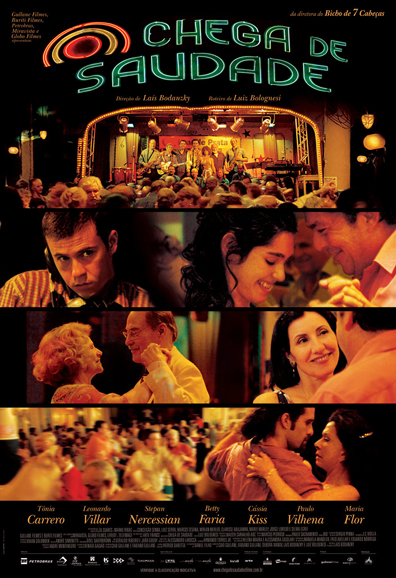 Cast and Crew
Director: Laís Bodanzky
Screenplay: Luiz Bolognesi
Cast: Betty Faria, Cássia Kiss, Clarisse Abujamra, Conceição Senna, Jorge Loredo, Leonardo Villar, Luiz Serra, Marcos Cesana, Maria Flor, Marly Marley, Miriam Mehler, Paulo Vilhena, Selma Egrei, Stepan Nercessian, Tônia Carrero
Special Guests: Elza Soares e Marku Ribas
Producers: Caio Gullane, Fabiano Gullane, Débora Ivanov, Laís Bodanzky and Luiz Bolognesi
Coproduction: Daniel Filho, Miravista, Globo Filmes, Lereby
Cinematography: Walter Carvalho, ABC
Art Director: Marcos Pedroso
Editing: Paulo Sacramento
Musical Director: Bid
Production Director: André Montenegro
Executive Producers: Caio Gullane, Fabiano Gullane
Co-Executive Producer: Renata Galvão
Cast Preparation: Sergio Penna
Choreography: J.C. Violla
Cast Producer: Vivian Golombek
Costume Design: André Simonetti
Make up: Doel Sauerbronn
Audio: Geraldo Ribeiro, João Godoy
Musical Research: Tutu Moraes, Bid, J.C. Violla
Sound Supervision: Alessandro Laroca
Mixing: Armando Torres Jr.
Post Production Coordinators: Helena Maura, Alessandra Casolari
Image Supervisor: Sérgio Pasqualino Jr.
Marketing Coordinators: Manuela Mandler, Fred Avellar, Eduardo Nóbrega
Associate Producer: Patrick Siaretta

Produced by: Buriti Filmes and Gullane
Coproduction: Globo Filmes, Miravista and Arté
Distributed by: Buena Vista Internacional
Sales Agent: Bankside Films
Duration: 95 minutes
Genre: Comedy Drama
Year - 2008
Gallery
Book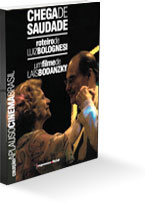 Synopsis
This book brings the complete screenplay by Luiz Bolognesi of the motion picture The Ballroom, directed by Laís Bodanzky.
The movie takes place in a ballroom, and it has only one unit of time and space. It tells the story of a middle-aged group of people, who gather weekly in a ballroom of Lapa, a São Paulo neighborhood. There, they have a good time by the sound of an orchestra, of which a pair of crooners take part (one of them is Elza Soares). The sound is controlled by a young man (Paulinho Vilhena), who introduces his girlfriend (Maria Flor) to the ball. The girl breaks the routine of the place, causing jealousy, when she's courted by a regular attendant of the ball (Stepan Nercessian).
Description
Author: Luiz Bolognesi
Publisher: Imprensa Oficial
Collection Aplauso Cinema Brasil
Year – 2007
Synopsis
The story happens during a ball night, in a dance club in São Paulo. The plot starts with the sun still shining, when the ballroom has its doors opened, and it finishes at the end of the ball, just before midnight, when the last attendant climbs down the stairs to go home.

The spectators watch, in one night, all the drama and happiness of five different segments of characters attending the ball. Mixing comedy and drama, The ballroom is about love, loneliness, betrayal and desire, in an environment full of music and dance.
History
The movie has reached about 200 thousand spectators in Brazilian movie theaters and has won 21 awards - twelve international and nine national ones.
It has had a successful international career, being exhibited in Latin America on HBO and watched by 300 thousand people, in France and Germany, through Channel Arté.
The movie has also been distributed in England, by the Matchbox Films, and sold to several countries – among them, Romania.
In Brazil the movie was exhibited on TV Globo.
International Awards
Internacional Humor Cinema Festival – Portugal (2009)
· Best Producer
4th Cineport – Cinema Festival of Portuguese speaking countries – Portugal (2009)
· Best Costume design
11th Festival Du Cinéma Bresilien of Paris – France (2009)
· Special Mention by the Jury
· Best Picture by the Popular Jury
Réncontre du Cinema Sud-Americaine
South American Film Festival in Marseille – France (2009)
· Best Picture by the Official Jury
· Best female acting for the Female Cast by the Official Jury
· Best male acting for the Male Cast by the Official Jury
· Mention of honor by the young jury
31st Films Festival of Femmes – France (2009)
· Special award by the Jury
49th Cartagena Festival – Colombia (2009)
· Best Female Cast
9th Festival of Brazilian films in Israel (2008)
· Best Fictional Movie
14th Genève Film Festival – Switzerland (2008)
· Best Picture
National Awards
5th Fiesp-Sesi Awards of Movies of São Paulo (2009)
· Best Soundtrack
· Best actress in a supporting role (Clarisse Abujamra)
· Best Screenplay
Rio Festival (2008)
· Best action of Product Placement of Brazilian Cinema
(Scene Bradesco Insurance and Social Security)
3rd National Cinema Contigo Awards (2008)
· Best Soundtrack
7th Brazilian Cinema Vivo Awards (2008)
· Best Costume Design
40th Brazilian Cinema Brasília Festival (2007)
· Best Director
· Best Screenplay
· Best Picture by the popular jury
http://chegadesaudadeofilme.uol.com.br