Documentary |
Ex-Shaman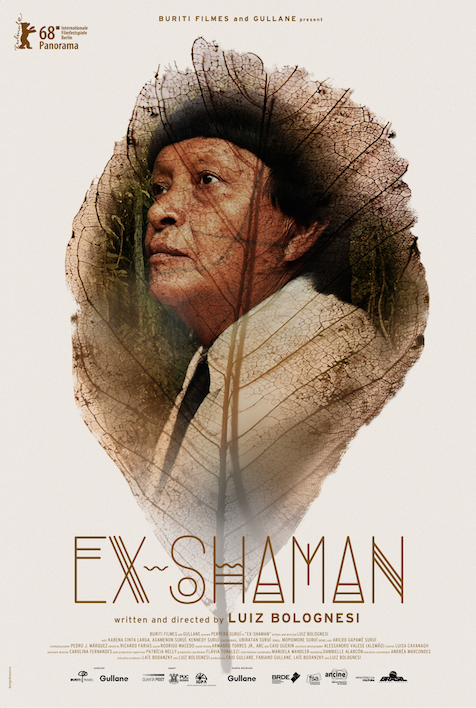 Cast and Crew
MAIN CAST
Perpera Suruí
Kabena Cinta Larga
Agamenon Suruí
Kennedy Suruí (Caciquinho)
Ubiratan Suruí (Bira)
Mopidmore Surui (Rone)
Arildo Gapamé Surui

WRITTEN AND DIRECTED BY LUIZ BOLOGNESI

Photography: Pedro J. Márquez
Editor: Ricardo Farias
Sound: Rodrigo Macedo
Sound Design: Armando Torres Jr., ABC & Caio Guerin Manon Ribat
Assistant Photographer: Alessandro Valese (Alemão)
Colorist: Luisa Cavanagh
Assistant Director: Carolina Fernandes
Postproduction Supervisor: Patrícia Nelly
Production Coordinator: Flávia Tonalezi
International Coordinator: Manuela Mandler
Marketing: Dannielle Alarcón
Executive Coordinator: Andréa Marcondes
Executive Producers: Laís Bodanzky & Luiz Bolognesi

Produced by
Laís Bodanzky, Luiz Bolognesi, Caio Gullane, Fabiano Gullane

Buriti Filmes and Gullane production
international sales Upside Distribution
Synopsis
The Paiter Suruí went through most of 20th century isolated from the rest of the world. Perpera, our protagonist, was 20 years old when his people made first contact with the white man in 1969. Until that moment, Perpera was a powerful shaman, a carrier of the ancestral knowledge of his people. But, with the white man came evangelical missionaries; they brought the word of a new god, and claimed that shamanism was of the devil.

Perpera was forced to abandon his ancestral practices. The Ex-Shaman knows that the spirits of the forests are upset. He has stopped praying to them and playing his sacred instruments. Afraid, Perpera sleeps with the lights on, "before they would consult the shaman, now they just take aspirin," he says.

However, this new scenario is at odds with the nature and culture of the Suruí village. Soon enough, events put into question the new dynamics of power among the Suruí people. When death haunts the Paiter Suruí, the power to speak to the spirits again becomes necessary, and the spirits do not speak to common people.



International Awards
68th Berlin International Film Festival - Alemanha (2018)
· Special mention of the jury of the Original Documentary Award
National Awards
23º It's All True (2018)
· ABRACCINE AWARD (Critic's Prize) for Best Documentary in Brazilian Feature Competition.
https://www.instagram.com/expajefilme
http://www.facebook.com/expajefilme