Short Films and Videos |
OUT OF CONTROL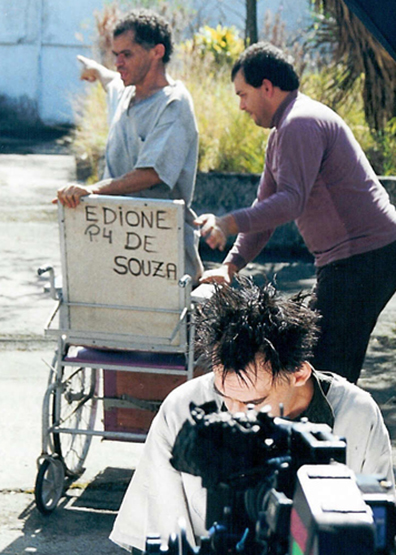 Cast and Crew
Artist: Arnaldo Antunes
Director: Mauro Martins
Production: Laís Bodanzky and Luiz Bolognesi
Production Direction: Priscila Torres
Cinematography: Carlos Zalasik
Editing: Rodrigo Menecucci
Art and Final Mixing: Dínamo Filmes
Actors: Arnaldo Antunes, Gero Camilo and Marcos Cesana

Distributed by: Buriti Filmes
Duration: 3 minutes
Year – 2001
Gallery
Synopsis
The video brings a mental health theme, as in the picture Brainstorm (some scenes from the movie were used).

Arnaldo Antunes plays an insane person, who struggles and confronts the viewers, in the rhythm of the strong beat of the song. Afterwards, there are seven heads totally out of control.
History
With the release of Brainstorm, Arnaldo Antunes was invited to make the Out Of Control video, a song written by himself, which was part of the soundtrack of Laís Bodanzky and Luiz Bolognesi's picture.

Using scenes and characters of the movie, the video was successful on television.