Films |
The Best Things in the World
Cast and Crew
Director: Laís Bodanzky
Screenplay: Luiz Bolognesi
Special Guests: Paulo Vilhena, Caio Blat, Fiuk e Denise Fraga
Cast: Zé Carlos Machado, Gustavo Machado, Gabriel Illanes, Julia Barros
Starring: Francisco Miguez, Fiuk and Gabriela Rocha
Producers: Caio Gullane, Fabiano Gullane, Debora Ivanov and Gabriel Lacerda
Co-producers: Jasmin Pinho, Minom Pinho, Laís Bodanzky and Luiz Bolognesi
Cinematography: Mauro Pinheiro Jr.
Art Director: Cássio Amarante
Costume Design: Caia Guimarães
Editing: Daniel Rezende
Soundtrack: Bid
Audio: Louis Robin
Audio Designer: Alessandro Laroca
Mixing: Armando Torres Jr.
Cast Producer: Alessandra Tosi
Cast Preparation: Sergio Penna
Production Director: Pablo Torrecillas
Executive Producer: Rui Pires and Caio Gullane
Produced by: Gullane
Coproduced by: Warner Bros. Pictures, Casa Redonda, Buriti Filmes and RioFilme
Distributed by: Warner Bros. Pictures
Duration: 105 minutes
Genre: Drama
Year - 2010
Gallery
Book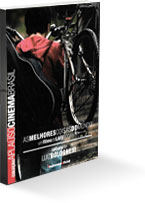 Synopsis
This book brings the full screenplay by Luiz Bolognesi of the picture The best things in the world, directed by Laís Bodanzky.
The main character Mano is a teenager facing the typical struggles of a child entering the adulthood. A certain happening in his family makes his life at school a terrible nightmare, which makes him dig deeply into his soul to finally find out who he wants to be.
Inspired by the book series Mano, by Gilberto Dimenstein and Heloísa Pietro.
Description
Author: Luiz Bolognesi
Publisher: Imprensa Oficial
Collection Aplauso Cinema Brasil
Year – 2010
Synopsis
Mano is 15 years old, he loves playing the guitar, hanging out with his friends and riding his bike. One day, something happens in his family and makes him realize that becoming an adult is not easy. Bullying at school, the first sexual experience, the relations at home, insecurities, prejudice and the discovery of love transform adolescence in a complicated journey.
Starring: Francisco Miguez and Gabriela Rocha

Special guests: Paulo Vilhena, Caio Blat, Fiuk and Denise Fraga
With the screenplay written by Luiz Bolognesi and directed by Laís Bodanzky, the movie is freely inspired by the series of books "Mano", written by Gilberto Dimenstein and Heloisa Prieto.
History
The movie has won 19 awards in Festivals in Brazil and abroad.

It was exhibited in Italian movie theaters, after its participation at the 5th International Movie Festival of Rome on the session Alice Nella Città.

It has also participated of other fifteen international festivals in countries like: Spain, Germany, Switzerland and France.
In addition to the great success in movie screens and home video, it was exhibited on Channels Telecine and Rede Globo.
International Awards
Filmar Festival in Latin America – Geneva/Switzerland (2011)
· Best Picture
VIII International Festival of Cine para la Infancia y la Juventud – Madrid/Spain (2011)
· Best Picture
13th Brazilian Movie Festival in Paris – France (2011)
· Best Picture – Popular Jury
* It has participated the 5th International Movie Festival on the session Alice Nella Città

National Awards
II Anápolis Films Festival (2012)
· Best Soundtrack
· Best Cinematography
Great Awards of Brazilian Cinema (2011)
· Best actor in a supporting role (Caio Blat)
FIESP/SESI Cinema Awards of São Paulo (2011)
· Best art director
· Best Soundtrack
XIV Cine PE (2010)
· Best Picture
· Best Director
· Best Screenplay
· Best Actor (Francisco Miguez)
· Best Cinematography
· Best Sound Editing
· Best Art Director
· Special Critics Award
5th Contigo! Cinema Awards (2010)
· Best actress in a supporting role (Denise Fraga)
APCA Awards (2010)
· Best Director
· Best Screenplay
* Nominee to the BRAVO! Prime of Culture 6th Awards


https://twitter.com/asmelhoresfilme