Films |
Rio 2096: A Story of Love and Fury
Cast and Crew
Director and Screenplay: Luiz Bolognesi
Cast: Selton Mello, Camila Pitanga and Rodrigo Santoro
Produced by: Buriti Filmes and Gullane
Producers: Fabiano Gullane, Caio Gullane, Luiz Bolognesi, Laís Bodanzky, Marcos Barreto, Debora Ivanov and Gabriel Lacerda
Art Director: Anna Caiado
Production Supervisor: Daniel Greco
Editing: Helena Maura
Original Soundtrack: Rica Amabis, Tejo Damasceno and Pupillo
Mixing and Audio Design: Alessandro Laroca, Eduardo Virmond and Armando Torres Jr.
Executive Producers: Caio Gullane, Fabiano Gullane and Sônia Hamburger
Executive Coproduction: Marcos Barreto and Renata Galvão
Produced by: Buriti Filmes and Gullane
Coproduction: Mondo Cane Filmes, Lightstar Studios, Estúdio Luno and HBO Latin America Originals
Distributed by: Europa Filmes
Duration: 75 minutes
Genre: Animation
Year - 2013
Gallery
Book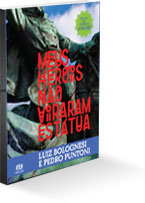 Synopsis
Unraveling the myths, questioning the "absolute truths" and revealing the secret identity of many heroes.
On the book My heroes don't become statues, the information makes you restless through informative texts supported by images, eliciting the young people for the passion that moves them: the perception of the importance of the historical knowledge for comprehending the present and transforming the future.
Inserted in this work, the DVD To fight.doc by the awarded moviemaker Luiz Bolognesi gives voice to important characters of the national scene. It is a documentary feature in a series produced for TV Brasil. They are theme episodes that portray different aspects of our national history and discuss the acting of Brazilian citizens in different periods, through historians' reports and other opinion formers. After all, the most important part of knowing all the versions of history is having your own version.
Description
Authors: Luiz Bolognesi and Pedro Puntoni
Publisher: Ática
Ano – 2013
Synopsis
Winner of the main award at the Animation Festival of Annecy, the most important in this genre of the world. The movie portrays the love between an immortal hero and Janaína, The woman who he has been in love with for 600 years.

On the background of this romance, Luiz Bolognesi's motion picture points out four phases of Brazil's History: colonization, slavery, the military regime and the future, in 2096, when there will be a war for water.

Destined to the young and adult audiences, using comic strips language, the movie brings Selton Mello and Camila Pitanga dubbing the main characters' voices.

Rio 2096, A Story of love and fury also brings the participation of Rodrigo Santoro, living an Indian chief and a warrior.
History
Winer of the Annecy Festival (France), the most important animation festival in the world.
The movie has been exhibited in movie theaters of 6 continents and was also awarded at the Tokio, Shangai, Athens, Bordeaux, Strasborg and Buenos Aires Festivals and by the Brazilian Academy of Cinema. It was exhibited in Latin America on HBO and is scheduled to be exhibited on TV Globo.
International Awards
Annecy International Animated Film Festival – France (2013)
· Best Picture
4th Brapeq Brazil Film Festival – China (2013)
· Best Motion Picture by the Jury
Strasbourg European Fantastic Film Festival – France (2013)
· Audience Award – Best Motion Picture
Le Nuits Magiqués – France (2013)
· Best Motion Picture
Latin Beat Film Festival – Japan (2013)
· Best Animation
Expotoons – Argentina (2013)
· Honor Mention – Special Award of the Jury
International Animation Festival Film Reanimania – Armenia (2013)
· Honor Mention – Special Award of the Jury
International Gold Panda Awards – China (2013)
· Best Motion Picture
· Best Director
Athens Animation Festival – Grécia (2014)
· Honor Mention of the Jury
National Awards
7th Cine Music Festival (2013)
· Best Audio Design· Mixing
· Sound Effects
· Dubbing Direction
1st Cinema Gostoso Exhibition (2013)
· Best Motion Picture
Brazilian Cinema great Award (2014)
· Best Animated Picture
· Best Visual Effects
http://www.umahistoriadeamorefuria.com.br
http://www.twitter.com/amorfuria
http://www.facebook.com/umahistoriadeamorefuria